Our Menus
Weekly Menu
Appetizer and Soup
Smoked salmon
-
20
with asparagus and buttermilk brew
Cream of asparagus
-
12
with cream cheese baguette and quail egg
Main Course
Roasted breast of muskovy duck
-
32
with green asparagus, pepper cherry and corn blini
Roasted fillet of meagre
-
30
with mangold and asparagus risotto
Dessert
Mascarpone Tart
-
11
with sable breton and rhubarb
Classic of the week
Marchfelder solo asparagus with parsely potatoes
-
26
and sauce hollandaise, polonaise or sauce vinaigrette
À la carte Menu
Appetizer
Viennese delicacies
-
22
Breaded veal and chicken, potato-cucumber-lamb's lettuce salad
Imperial Sandwich
-
22
Pastrami, avocado, dried tomato, red wine onions, mountain cheese
Variation of salmon
-
22
Dill mustard sauce, creamy horse radish
Green vegetable salad
-
16
with sheep cheese and wild garlic
Beef Tatar (small)
-
22
Vinegar vegetables, herb salad and sourdough bread
Beef Tatar (big)
-
32
Vinegar vegetables, herb salad and sourdough bread
Soup
Beef consommé
-
9
Semolina dumpling or sliced pancake or liver dumpling
Crème of potato
-
9
Duroc bacon, mushrooms and lovage
Crème of spring herbs
-
12
with baked calf's head and horse radish
Main Course
Risotto with peas
-
22
with radish, chervil and cream cheese
Roasted filet of trout
-
32
with spring minestrone and strozzapreti
Saddle of lamb
-
34
with artichoke, bell pepper and green curry tarhonya
Breast of chicken
-
28
with turnip, mushrooms and mountain cheese dumplings
Baked Cauliflower
-
22
with egg, parsley and sour dough cream
Austrian specialties
Original Wiener Schnitzel
-
31
Breaded and deep-fried escalope of veal, parsley potatoes and mixed salad
Tafelspitz - Traditional boiled beef
-
31
Hash browned potatoes, cream spinach, apple-horseradish-sauce and chive-sauce
Viennese sausages
-
14
Mustard, horse radish, goulash sauce
Ox goulash
-
24
Bread dumpling, organic egg, sausage
Braised creamy heart of milk veal
-
28
with celery and wild garlic dumplings
Cakes and Pastries
Viennese Apple strudel
-
8
Aapples with raisins, butter bread crumbs and cinnamon
Mango Tart
-
7
Mango cream with crème fraiche mousse
"Rehrücken" with almonds
-
7
Chocolate-nut cake stuffed with homemade cranberry jam
Esterhazyschnitte
-
7
Almond layers with vanilla-butter-crème and maraschino
Walnut cake
-
7
with butter cream
Chocolate pistachio cake
-
7
Chocolate biscuit with nuts and raspberry
Crumble cake
-
7
Sand mass with raspberry and rhubarb
Valrhona chocolate mousse
-
7
With milk and dark chocolate
Chocolate Tart
-
7
with caramel and peanut
Desserts
Mohr im Hemd
-
12
Hot chocolate sponge cake, chocolate sauce, vanilla ice cream
Palatschinken
-
10
Crepes stuffed with apricot jam or chocolate sauce
Crème Brulée
-
9.5
Tahiti vanilla, Cassis sherbet
Wiener Kaiserschmarrn
Wiener Kaiserschmarrn (30 minutes preparation time)
-
22
Rum raisins, plum- and apricot puree
Ice Cream
Portion of mixed ice-cream
-
9
4 scoops
Small portion of mixed ice-cream
-
2 scoops
Portion of whipped cream
-
2
Portion of ice-cream wafers
-
2
Ice Cream Creations
Imperial Coupe "fine raspberry"
-
10
Imperial ice cream, raspberry sherbet, raspberry brandy
Coupe "Ringstraße"
-
10
Strawberry-, vanilla- and lemon ice-cream, fresh berries
Granola and Fruit Coupe
-
12
Lemon, black currant, mango, homemade granola, fruits and yoghurt
Viennese Iced Coffee
-
10
Chilled coffee, vanilla ice-cream, whipped cream
Iced Chocolate
-
10
Ice cold chocolate, vanilla ice-cream, whipped cream
Hommage to Viennese Tradition
The Viennese coffee house has always been a meeting point for society and well known literary figures. In the Café Imperial Wien, many well known masterpieces were created by great writers, and every guest is special. The tradition lives on and is carefully maintained. Here you meet for breakfast, lunch or dinner, for a single espresso or a Wiener Melange. Classic Viennese specialties are served, from Tafelspitz (boiled beef) to the fluffy Viennese Kaiserschmarrn and probably the best Schnitzel in town.
Pastries & Sweets
Those who prefer it sweet can enjoy the home-made pastries or even the Imperial Torte, the exquisite master confection, handmade as well by the Imperial master confectioners.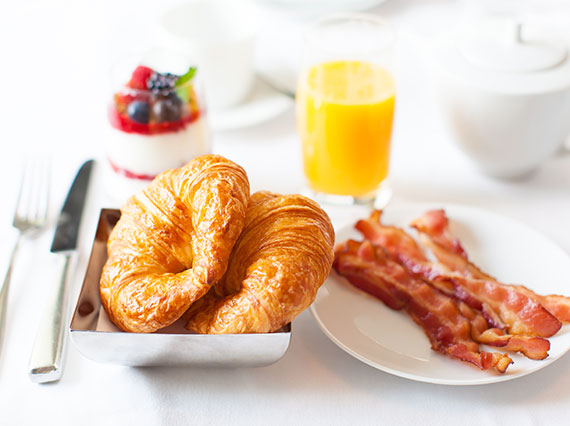 Breakfast



Have breakfast like an emperor and choose from various 
arrangements or enjoy your very special à la carte breakfast. 
Have a great day!